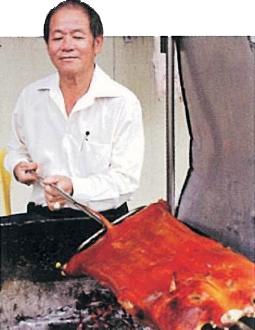 The boss started working since he was a teenager to help relieve the family's burden. He worked as a coffee boy, kitchen helper and slowly worked his way to be a cook.
Kian Seng Restaurant was set up in the 1960s. Previously it was located in near Yio Chu Kang Stadium as an air-conditioned restaurant. He decided to get another branch at Ang Mo Kio Industrial Park 1 now known as Kian Seng Seafood Restaurant Pte Ltd. Unable to get the tender at the Yio Chu Kang Stadium, he decided to focus on the new restaurant.
Our dishes are between a "Zi Char" and a restaurant, serving from Sweet Sour Pork and Fried KaiLan to Buddha Jump Over the Wall and Roast Suckling Pig (charcoal roasted on the spot).
We serve old Teochew dishes like Steamed Vegetable with Dried Scallops, Braised Whole Sea-Cucumber with Pork Fillings, Braised Duck with Chestnut Fillings and Yam Paste with Pumpkin.
We also have unique dishes like Steamed Shark's Head, Crab with Seafood in Claypot, Nonya Fishhead (aka Curry Fishhead using our special blend of chilli) and the latest fave is Crab with Salted Egg.